Click the picture below for price, floor plans, pictures, and more info on our new homes for sale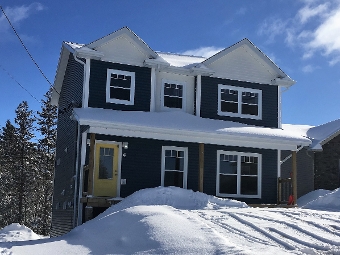 FOR SALE, READY FOR IMMEDIATE OCCUPANCY
3 Bedroom, 2.5 Bath, 1561 Sq Ft. Finished Apartment
Waterfront property
$449,900 HST and Land Included
FOR SALE, READY FOR IMMEDIATE OCCUPANCY
3 Bed, 2 Bath 1120 Sq Ft with Detached Garage
$275,900 HST and Land Included
FOR SALE, READY FOR IMMEDIATE OCCUPANCY
3 Bedroom, 1 Bathroom, with Garage 1120 Sq Ft, Garage.
$265,900 HST and Land included.
Talk to us about mortgaging one of these new homes:
Just 5% Down
No other deposits until 100% complete
Standard bank mortgage at posted rates (or lower) once home is ready for you to move in.
Thinking about a new home? Give us a call.
LAND INCLUDED, HST INCLUDED, NEW TURN-KEY FINISHED HOMES!